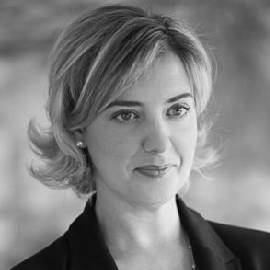 Graduated in Higher Studies in National Defense, XLII promotion from the CESEDEN. Political scientist, graduated from the Faculty of Political Sciences of the UCM, specialized in International Relations and Political Analysis. Ms. Hernández has a master's degree in Political Action in the Rule of Law from the Francisco de Vitoria University, where she began to be interested in geopolitical phenomena, and in the areas of security, defense and intelligence.
She has an official degree as Expert Intelligence Analyst from the IFCS (Institute of Forensic and Security Sciences) and official Certification in Cyber Intelligence and Cybersecurity in the Business Environment from the UAM Polytechnic School.
Her extensive experience has led her to be selected as a trainer of the EUROPOL Counterterrorism Unit, and directs the research work in Military intelligence of the Higher Course on Intelligence of the Armed Forces at the ESFAS (Higher School of the Armed Forces) in the CESEDEN (Higher Center for National Defense Studies)
She began to work in strategic consulting to later develop a career in different positions, as director of Project Development, Institutional Relations, Public Affairs, as well as Operations, in multinationals, in Engineering, Energy, Cement, Construction and Trading sectors. She developed projects expanding the market in Turkey, Estonia, Germany, France and Morocco among other countries.
Founder of Prime Project, a consultant firm focused on Business Intelligence, working in the East Coast of the United States and Europe with private clients and institutions, in Engineering projects in Civil Works, Technological, Security, Defense and Cybersecurity.
Ms. Hernández is an Intelligence Analysis expert, in the field of Intelligence Reserves and personality profiling for HUMINT. She collaborates with different Think Tanks and Academic Institutions, being an analyst at the CSI (Center for International Security) of the Institute of International Policy, and with professional associations for the development of the Culture of Security and Defense in Spain. She is a member of Spanish Women in International Security (SWIIS) and member of the Board of Directors of ADALEDE.
Passionate about teaching and mentoring young people to make our country a safer and more resilient place, she is a member of the Sec2Crime Committee of Experts.